Open Air Cinema Hire UK
Open Air Cinema Hire UK Setting up a outdoor cinema is relatively easy. We have a selection of screens for open air cinemas for hire. Normally the most commonly outdoor cinema screen will be an inflatable projection screen. Though a LED screen can be used for daytime use.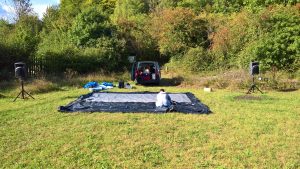 Can you show a film outside during the day ?
Yes you can show a film outside during the day it is just a different technology to a conventional outdoor screen. Outdoor screens used during the day would be an LED screen. A LED screen is a bank of small LED lights that change colour and controlled by a computer. You need to bear in mind when watching a film on an LED screen is that the screen is very bright.  This needs to be so in order to compete with the daytime sun. In some cases this can be uncomfortable whilst watching the screen continuously. Do people watch films during the day outside it is far more better to show a film when it's dark so there is no distraction.
Open Air Cinema company
Open air cinemas come on leaps and bounds in the last 10 years. lots of people offering different kinds of services. Some open-air cinema companies just do their own events and some hire the equipment for you to organise the event yourself.
The most common screens used or open air cinema nowadays are inflatables screens. They are just like a bouncy castle. would normally would be required to be pegged down on a grass surface. Or to any kind of ballast. Screens are normally supported in four corners
Sound for open air cinema
Sound would normally depend on the number of people viewing. And the location. In the past we have set up big sound systems for open air cinemas and the location has been a bit tricky. Tricky in the fact that the field we was on doing the open air cinema was surrounded by houses and the sound from the screen was bouncing off the houses. Normally when we get booked to do an outdoor cinema we do a Google Earth view to look at the location.
Projectors for open air cinema
The size of projector depends on the size of screen. The projector does not have to be a particularly special projector for outside. We always recommend and use projectors with filters. The filters ensure that no bugs get sucked in whilst the projector is cooling and in operation. Flying bugs can be a problem with projectors. In the summer have you ever looked at a outside light and saw the bugs hitting it. Well this is what happens to projectors in an outdoor space
Open air cinema hire.
If you are interested in setting up an outdoor cinema. Please drop us a email or a call and we would be more than happy to give you any advice. We can give you information on what size screen you need to hire for your open-air cinema event. We would be happy to share reviews we have from other open-air cinema customers. And we have lots of videos and photos to show you what you will be getting.