FRIENDS OF FORTUNE GREEN
outdoor film screening. To guide you first film in June,
Film screening London
Dear Neville, Kelly and Aaron
What a splendid evening, thank you so much. It went really well and resulted in a healthy collection for our funds from the audience. Everyone had a great time and the equipment was really good – the quality of the image excellent.
If you'd like a quote for your website here it is:
"Thanks ProScreens for an excellent screening – top notch equipment and very smooth set up. All 300 or so locals who came along had a terrific night!"
We're also attaching a couple of images…
All good wishes and thanks again
Mark & Jackie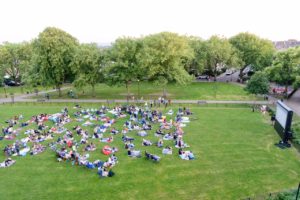 FoFG committee
Watching a film is a great communal experience. Watching that film outdoors surrounded by your friends and neighbours is even better. But it doesn't happen by accident. As well as taking on the role of editor of West Hampstead Life, I'm also involved with the Friends of Fortune Green (FoFG